Okay, Sugar. It's over.
Now that wasn't so hard, was it? All this time, I've been wondering how I'd say it, when I'd say it, when I would finally get the nerve to throw in the towel. And now that I've done it, that's it? Was it always that simple? All I had to do was say, "It's over?" Weird. Now as I sit here, strange silence all around me, I'm wondering what happens next. Aren't you gonna say anything? I feel the same as I did a moment ago, before I said it. Nothing feels any different. Nothing looks any different. Birds are still singing. Trees are still green. The sky hasn't fallen. But why are you being so quiet? Did you expect this all along? Did you know this was going to happen? Were you just torturing me, getting your beautiful, deadly claws deeper and deeper into me in search of my breaking point? Well, you've found it. And it didn't happen when I said It's Over. It's been happening little by little, day after day, and into the night. It's been happening every time I taste your bitter after-effects on the back of my tongue; every time I look in the mirror or look down upon my form in the dim, misty morning light of the shower. This decision has been waiting there as the faintest background voice when we meet up at catered events and private dinners together. It's the loudest voice in the morning when I wake; part of the roots of my self-deprecation. It's my very fear of death, my aversion to it, and my hope that I don't cause my own end.
It's Over is the tiniest tendril, smallest, freshest, most fragile newborn sprig of redwood coming up from the earth. In the past I've allowed you to step all over it, uproot it in all of your creative ways, but not this time. I'm building a fence around my will. It really is over this time. It has to be, because I simply, literally, cannot go on living like this.
Now that I've said it, now that I've made official our break-up, as I stop and take in the silence, the world does indeed look different. I can really hear the birds outside; I can really see each leaf on every tree. I can feel my guts, churning over the final remains of our last encounter. And though my eyelids droop and my vision is blurry after another almost-sleepless night, having finally said it, finally put it out there, I can feel what little pre-you soul I have left slowly waking to the possibilities. The hope. Hope that it might live again, and see the light created by the heat of my will to resist you.
No, this won't be easy. I've broken up with you before, and I've been too weak to last, to stay away from you at your finest, most beautiful and hypnotically persuasive moments. Like an alcoholic, once an alcoholic, always an alcoholic: after years of sobriety, just one small drink places the physiological bookmark right back where it was before the break-up decision was made. So I understand your snickering, the ease with which you turn away when I tell you I can take no more. I was hoping you'd want to discuss it, like two adults with such a long history. We could make it amicable. But I can tell that you're going to go back to the same old tired strategy you've used in the past. Ignore me, yet torture me by flaunting your relationship with others. Hey, it's understandable. It's worked every time before. All you have to do is wait it out. This is a phase, right? I'm addicted to you. Life isn't the same without you. People are used to seeing us together. They wouldn't know me without you. In fact, I'm sure that almost all of our friends will take your side and stick with you, even if they know and respect my side of the story. Over time, that may be one of the hardest things for me to come to terms with. But over time, as I begin to meet new people and find new ways to be without you, I'm confident that the same energy of resistance, that feeling of being alone, will turn into my source of power, what differentiates me and makes me special. I know it will, because sometimes, late at night or early in the morning, when the early bird is up, I can feel that strength and the pride it could engender. I put myself into a space of what it would feel like to have resisted you, to have weathered some without-you storm, and I relish the imagined strength and wisdom I have earned on the other side of the seas that toss inside of me.
Making a huge decision is always exciting just out the gate. I'll feel a new kind of purpose, a self-made wind at my back from the sudden burning all of the fuel that was collected before launch. But after that fuel has burned off and the bonfire has become hot coals, I will need to continually find my own momentum to keep my will intact; continually recoat my gut with the teflon of the memories that brought me to this point. I know it won't be easy. I'll be so, so hungry for you. I can feel that I already am. You're such an easy out. How will I deal with the massive hunger I have for you in so many ways? What will I do with all the space left where you once were inside of me? I'll have so much time once I'm no longer anesthetizing my life with you. I need to know this, need to see it here, need to write it out and know that, to a large degree, the experience of being without you will be a very lonely experience. You've been what I've looked forward to, the feeling tugging inside of me between thoughts. You've created many of my most zen-like states. The temporary samadhi found indulging in your sweetness makes me only want more more more. At the very thought of being without you, every cell in my body screams out, "Why?"
I know that nearly every item on every shelf will remind me of you. Every restaurant was our hangout. So many supermarkets, minimarts, corner stores, bakeries, ice cream and frozen yogurt shops, gas stations, holes-in-many-walls. So many benches and secret hideaways where I'd sneak away to be with you. I know I'll see you everywhere. And so will everyone else. You make friends so effortlessly. Even people who are close to me and love me and respect this decision will undoubtedly forget and will have you over when they invite me to go out for a bite or come in for a dinner party. New friends won't know about our tumultuous past, and will try to set me up on blind dates with you. You've so successfully flooded so much of my past and present that my future will undoubtedly see you following me around as well. You're nearly impossible to avoid. And I'm sure there will be times when you get your claws back into me, sometimes with my permission and sometimes without. Just a tiny taste, I'll say. Just a wee little bit so I don't feel so awkward in your presence. But that's all. See, I'm already deal-making?
So this has to be it. I have to put my foot down. It's time. Whenever I'm tempted by you, I need to read this. Because right now, as with so many right nows in the past, I need to move on. I'm 40 years old, and all evidence shows that I won't make it much longer if I continue to allow myself to be your whore, to do your bidding. Sweet as you are so much of the time, the truth is that you are not a friend or even an alli. You're a despot, an authoritarian parasite. You feed on people. And the way you do it is quite ingenious. You've become so necessary at such a basic level that all nourishment essentially breaks down into a unit of…you. Every meat, every cheese, every part of the food pyramid–my digestive system has been configured to take anything I consume and make it into…You. My every cell is a slave to you, crying out to imbibe your essence, running on your fuel, and continuously wanting more more more. Every digestive organ has been designed to break different kinds of nutrients into smaller parts to convert back into a form that can be put onto an altar…to you. And thus, nearly every need I have, every thought, every motivation, every joy and sorrow, essentially depends upon and leads back to you.
Save one. My will to survive.
Yes, this is a very long, drawn-out way of saying that I feel like our relationship has lost its balance. Much as I feel like I cannot live without you; much as I know I've basically been designed to serve you, some part of me (which, in essence, is part of you), knows that I literally cannot go on living like this. Though I've been designed to run on fuel made of you, the quality of the fuel I've been craving has been deteriorating over time. I no longer look for different kinds of experiences, different kinds of nourishment. Rather than searching out, creating, and enjoying many different forms of experience, I'm finding myself craving, seeking out, and absorbing the simplest forms of you. No more beautiful meals. Now it's simply cake, ice cream, cookies, candy. I've cut to the chase, and the organs that were created and employed to eat a meal have been relegated to the bench. "Use it or lose it," my mom's favorite motto. And easy and fun as the simple road, the known, the predictable may be, we humans are designed to experience life. We are made for resilience. Not experiencing new things, new relationships, not utilizing our full potential, we wither and die.
Somewhere between my basic needs as a human animal and my will to live a long, productive life lies a balance. That balance is a sense of its own, holding within it my other senses. It's even bigger than you. I call that balance my sentient soul, for lack of a better term. And this little life-saving note I'm writing is actually being ghost-written by that soul. My sense of balance. A balance that is beyond even you. My need for balance subsumes and holds my very structure, the structure that you prey on. And it wants you to return to your rightful place as its employee. Your coup has run its course, and it's time for stability once again.
So even though I know how easy and delicious and fun and enjoyable it is to be with you; even though I've been satisfied to simplify and narrow my life to serve you and only you in nearly every way; the time has come to make a change. Even though my every cell has been built and formed in a unique way to serve you, something larger, something higher (call it a higher purpose) has emerged. It's time I take the road less traveled. It's time I try preparing meals rather than grabbing ice cream. It's time I make my organs go back to work, exploring their every potential. Not because I don't like you, but precisely because I do. So much so, in fact, that my relationship with you has literally become all-consuming. Sugar, it's high time we break up. While you may live with or without me, my very life depends upon this decision. And I honor my better judgment, my survival instinct, by listening to it now, before it's too late and I lose my self completely.
Many people who experience relief from acupuncture or other modalities wonder if it was the treatment, or the placebo effect.  My typical response is that I don't care, so long as they feel better.
Much has been written about the Placebo Effect, and the article by Todd Hargrove which I'm attaching here has what I feel is a great explanation of it. Some text from the conclusion is below, and the full article may be read here.
The science of placebo is very interesting and informative. It is not unreasonable to suppose that a good degree of the success seen in movement-based therapies is through placebo-like effects, or through getting rid of nocebos. But I think the word placebo can be confusing. It refers to a wide variety of different phenomena that have different effects through different mechanisms.

Some placebo effects work through anxiety reduction, others through activation of the reward system, and others through descending inhibition of nociception. The common thread is they are all created by cognitive inputs – information that changes what the patient expects or believes about their health.

And this relates to another problem with the word placebo – it suggests that treatments which work through changes in client expectation are somehow inert, or ineffective, or not meaningful, or unethical, or even a scam. Of course this may very well be the case when the treatment is a sugar pill, or based on pseudoscience or quackery. In these instances, the clients' expectations and beliefs are changed because they are deceived, and this is in most cases unethical.

But what if a treatment works primarily through changes in belief and expectation,but in a way that changes those beliefs to be more accurate? Consider the following scenarios, all of which might be described as involving placebo effects, but none of which involve deception:

a client is given accurate information about the poor correlation between back pain and objective MRI findings. This lowers his anxiety and pain.
a client is shown through passive and active movement that it is possible for her to bend forward without pain if she does so in a different manner. This reduces her anxiety, makes her expect benefit from therapy, and this reduces her pain.
a client receives compassionate and empathetic treatment from a caring therapist. This lowers his anxiety, makes him expect benefit, and thereby reduces his pain.
a client has had many past experiences with massage causing pain relief, and this learned association contributes to further pain relief from massage.

Are these all placebo effects? It is true that they all work in large part by changing the client's beliefs. But that was the whole point of the treatment in the first place! So there should be no suggestion that the treatments are inert, ineffective or deceptive. Using the word placebo in these cases can be stigmatizing and confusing.

I prefer to look at it this way: pain results from perception of threat, and it can be treated by providing the client as much good news as possible about the threat in question.

Does this present an ethical issue? Only when that good news is built from lies and not the truth. Fortunately, I think there are many optimistic truths that clients can learn from therapists through touch, movement, and conversation.
Supermodel Elle Macpherson, recently said in an interview with UK tabloid, News of the World, "I have acupuncture regularly and I see a Chinese doctor who treats most common ailments with herbs." 

When asked how she maintained her health and well being, Elle answered, "I do choose to look after my body from a Chinese medicine perspective, which promotes and maintains wellness rather than treats illness."

Elle is not the only celebrity that seems to have become "star-struck" with this traditional form of health care that is touted as being able to treat everything from anxiety to a torn rotator cuff.  Gwyneth Paltrow, a longtime advocate of the benefits of acupuncture and Oriental medicine, once said that having acupuncture had guided her to a "new level" in life, helping her to find love with her husband and giving her the strength to cope with the death of her father. In an interview with Oprah Winfrey, Gwyneth Paltrow said, "I have been a big fan of Chinese medicine for a long time because it works."

So what other celebrities are up for being a voluntary pin-cushion?  Dr. Maoshing Ni, an acupuncturist in Santa Monica lists Jim Carrey and Helen Hunt as two of his many famous clients.  In a testimonial, Jim Carrey said "undergoing [acupuncture] treatments with Dr. Mao at and following his nutritional advice has led to a marked change in my physical vitality and my general state of well-being."

Celebrities have embraced acupuncture so whole-heartedly that they even schedule regular acupuncture treatments for their pets.  Sarah Michelle Gellar of Buffy the Vampire Slayer fame, has been spotted in Los Angeles taking her pampered pooch, Tyson, in for his acupuncture treatment.

Acupuncture is becoming more and more respected by conventional medicine, so much so that there were acupuncturists on-site for the athletes at both the Summer and Winter Olympics.

How it works
 
Is there any evidence to back up this rapid growth in the popularity of acupuncture?  Besides the 2000 years of clinical evidence, there are a multitude of studies to substantiate that acupuncture has a measurable affect on the body.  One study on how acupuncture works to relieve pain, published in the Journal of NeuroImage, used brain imaging technology to prove that acupuncture affects the brain's long-term ability to regulate pain.  In the study, researchers were able to show that acupuncture increased the binding availability to opioid receptors in the brain in much the same way that opioid painkillers, such as morphine, codeine and other medications, are thought to work 

The U.S. National Institutes of Health (NIH) and the World Health Organization (WHO) have declared acupuncture effective for more than 200 other conditions including, respiratory, eye and mouth, gastro-intestinal, neurological and muscular disorders. Because of acupuncture's ability to speed the healing process, bring down swelling and inflammation, relieve pain, and help to restore normal range of motion, it is especially effective at treating musculo-skeletal disorders.  

"When someone comes in for treatment, we take all of their symptoms into account and aim at balancing the energy within the body to optimize health.  Treatments are tailored for the individual.  That is why it is important to talk with an acupuncturist to see how acupuncture will be able to help your specific and unique case."
Given that we're in the midst of the holiday season, and are likely adding far more strange and atypical foods to our diet than at other times of year, I thought it apropos to put in some bloggage about food poisoning, and what can be done for it.
Acupuncture Treats Food Poisoning
By: Diane Joswick, L.Ac., MSOM
Every year millions of people suffer from bouts of vomiting and diarrhea due to food poisoning. The Centers for Disease Control and Prevention (CDC) estimates that there are as many as 33 million cases of food poisoning in the United States annually.
While most cases are mild and pass so rapidly that they are never diagnosed, occasionally a severe outbreak creates a newsworthy public health hazard. The recent outbreak in the United States is such a case.
More than 11 weeks into the biggest Salmonella outbreak linked to fresh produce ever in the United States, a strain of Salmonella has sickened over 869 people across the country, causing tomatoes to be pulled from shelves and restaurants.
Acupuncture and Oriental medicine can be of great help when it comes to relieving symptoms of and recovering from food poisoning. In most cases, the recommendation for food poisoning is to rest and drink plenty of fluids. Acupuncture and Oriental medicine can actually relieve symptoms, hasten recovery and also strengthen the digestive system to prevent future incidents of food poisoning, avert the development of chronic immune deficiencies and increase energy levels.
What is Food Poisoning?
Food poisoning is a general term for any illness arising from eating contaminated foods. Also known as foodborne illness, infectious diarrhea or gastroenteritis, food poisoning is generated by a variety of microorganisms including bacteria, viruses and parasites. The most common bacteria to cause food poisoning are salmonella, staphylococcus aureus, E. coli and shigella.
Food poisoning is marked by severe diarrhea, fever, cramping, abdominal pain, flu-like symptoms, vomiting and diarrhea. Most cases of food poisoning clear up on their own within a week without any medical assistance; however, it can take several months before bowel habits return to normal. Often the digestive system is severely weakened after a bout of food poisoning, making the infected person more susceptible to food poisoning in the future. A small number of persons with food poisoning develop an autoimmune disease called Reiter's syndrome. It can last for months or years, and can lead to chronic arthritis.

Diagnosis and Treatment of Food Poisoning
In Oriental medicine, food poisoning is recognized as dampness and heat in the stomach and intestines due to the ingestion of unclean food or drink. Traditionally, damp heat conditions were seen mostly in the summer months when heat and humidity are at their peak. It is interesting to note that the CDC confirms that most cases occur in the warm months between July and October.
Treatment of food poisoning is rest and hydration to prevent fluid and electrolyte loss through vomiting and diarrhea. Acupuncture and Oriental medicine can be used to relieve nausea and vomiting, hasten recovery by assisting the body to eliminate the pathogen faster, and strengthen the digestive system to prevent any reoccurrences as well as the development of a chronic immune disorder.
Is your digestive system functioning as well as it could?  Acupuncture and Oriental medicine are extremely effective at treating a wide array of digestive disorders.  Call a licensed practitioner near you for more information or to schedule and appointment.
Points for Food Poisoning
Acupuncture treatments are aimed at draining dampness and heat from the intestines to remove the pathogen while simultaneously calming the stomach to stop nausea and vomiting. After the acute symptoms subside, treatments are focused on strengthening the digestive system and improving energy levels to bring about a full recovery.
While many different acupuncture points are used, depending on your specific symptoms and the state of your overall health, here are some acupuncture points that are commonly used to treat gastroenteritis:

Stomach 25 (St 25) and Ren 4 (Co 4) are two acupuncture points located on the abdomen around the umbilicus. They are used for abdominal pain, cramping and to drain heat and damp from the intestines.
Stomach 36 (St 36) is located on the shin, below the knee (see image above). It is a very powerful point used to adjust and balance the physiological activity of the digestive system and relieve stomach pain. It is one of the major points on the body for the GI tract. It triggers the body to increase the secretion of hydrochloric acid, dissolve food and move it out of the stomach and intestines.
Pericardium 6 (Pc 6) is located two finger breadths above the inside of the wrist. This acupuncture point alleviates nausea.
How to Prevent Food Poisoning
Here are four simple guidelines to ensure that your summer holidays are not memorable for all the wrong reasons!
Clean, Separate, Cook and Chill
Clean: Wash hands, surfaces, utensils and platters often. Rinse all produce in cold running water before peeling, cutting or eating.
Separate: Keep foods that won't be cooked separate from raw meat and poultry. Don't use the same platter and utensils for raw and cooked meat and poultry.
Cook: Cook food to a safe minimum internal temperature to destroy harmful bacteria.
Chill: Refrigerate any leftovers promptly in shallow containers.
* If you are ill with diarrhea or vomiting, do not prepare food for others, especially infants, the elderly and those with weakened immune systems since they are more vulnerable to infection.
Ginger for Intestinal Upset
Did you know that ginger is always served with sushi because of its ability to prevent food poisoning?
Ginger has been found to increase the secretion of gastric juice and the production of hypochloride. This means that food is digested more quickly; creating an unfriendly environment for bacteria that could wreak havoc with your stomach and intestines.
Ginger works as well at treating the symptoms of food poisoning as it does preventing them. In fact, ginger can be used for most digestive upsets that involve nausea, vomiting, cramping, abdominal pain, indigestion or diarrhea.
Whether your digestive problem is due to eating contaminated food, stomach flu, pregnancy or motion sickness, ginger is one of the most effective agents around!
Ever wonder why some acupuncture points are used in almost every treatment? Why it is common to have a needle placed a little below your knee, on your wrist, in the web of your hand, or on your lower leg? It is because those points are some of the most powerful and useful points in Chinese medicine. I refer to those frequently used acupuncture points as superhero points.
Everyone loves superheroes, they save the world. A popular debate among superhero lovers is which superhero is the best. Is Superman the coolest because he has superpowers but is able to blend in with the people while he saves Metropolis? Perhaps Batman is the favorite because he has no superpowers but stays levelheaded in order to save Gotham? Maybe The Flash is the ultimate superhero because he is faster than the speed of light? It could be that Wolverine is best because he is indestructible but endures tremendous pain in order to save the world? Or is Spiderman the greatest superhero because he was bitten by a radioactive spider, giving him superpowers and ultimately becoming a superhero? Acupuncturists have similar discussions regarding which acupuncture points are considered the "superheroes" of acupuncture.
Stomach (ST) 36 is the most common point to choose, it is the "Superman" of acupuncture points. Located below the knee, ST 36 tonifies qi and blood, harmonizes the intestines, benefits the stomach and spleen, transforms dampness, benefits the spirit, dispels pathogens, courses wind, and helps prevent disease (Deadman 158). It is arguably the most important point on the stomach channel, a channel that contains 45 points. It is not, however, an extra point or part of an extraordinary vessel rather it is one point in a large channel. This is very similar to Superman who has the strength and power to save everyone but as soon as he puts on his glasses, he is an average citizen.
The "Batman" of points is Pericardium (PC) 6 because it protects the heart, just as Batman protects Gotham. Located proximal to the wrist crease, PC 6 helps calm the spirit and most importantly, suppresses pain. PC 6 is also used for nausea and vomiting especially in cases of morning sickness (Deadman 376-377). This point is often used because people need to be calm in order to be healthy. Similarly, Batman's ability to stay calm and think with a clear mind, allows him to protect the city of Gotham.
Liver (LV) 5 is The Flash of points. It strongly courses liver qi throughout the body, moving qi quickly just like The Flash. Everyday people feel stuck because their qi is unable to move and they become frustrated. When LV 5, located on the lower leg, is stimulated, qi starts moving faster and people feel more relaxed. It is a wonderful point for anyone who needs a pick-me-up (Deadman 482-483).
Large Intestine (LI) 4, located in the web of a hand between the thumb and pointer finger, is comparable to Wolverine because despite its tenderness it helps heal the body quickly. It can promote labor, cure a headache, prevent sickness, and even help with back pain (Deadman 103-106). Most people find LI 4 painful, but it is a small price to pay in order to help almost every ailment. Wolverine is comparable to LI 4, as he too experiences initial pain when helping people but powers through, as he know it's a necessary side effect.
Spiderman was a nerdy high school student who from one radioactive spider bite became stronger, smarter, and faster. Spleen (SP) 6 is similar to the spider bite because stimulating SP 6 can help turn a common weakness into a strength. SP 6 tonifies blood, benefits kidney yin, and spreads qi. Located on the lower leg, it can help build a person's blood, calm their mind, and move their qi (Deadman 189-192). It has the ability to help transform someone into a superhero.
Each of these points have their own "superpowers." They can help heal sickness and stop pain. They are the Superman, Batman, The Flash, Wolverine, and Spiderman of acupuncture points. Just like their alter egos each point saves lives. We will never know which superhero is the strongest, just as we will never know which acupuncture point is the most effective — it simply depends on the individual patient. Sometimes the patient needs a point that treats every ailment, sometimes they'll need a point that protects the heart, or even one that moves qi fast or strengthens the body. Sometimes, they may need them all.
Citations
Deadman, Peter, Mazin Khafaji, and Kevin Baker. A manual of acupuncture. Hove, East Sussex, England: Journal of Chinese Medicine Publications ;, 2007. Print.
People are constantly asking, "Do you have a needle for weight loss?"  There are many potential answers to that question, and none of them involve simply won needle being inserted in one spot.
Healthy diet and exercise are the gold standard for weight loss. However, cravings and hunger often derail efforts. In extreme cases, individuals turn to pharmaceutical and surgical treatments to reduce appetite, yet these have serious side effects. Low quality supplements and infomercial "cures" can also be dangerous, ineffective and expensive. There may be another answer.
The Journal of Alternative and Complementary Medicine published a study concerning the effect of tragus clips on gastric peristalsis, or the process of food traveling through the intestines. The researchers noted the use of the "hunger point" on the tragus of the ear has been successful in creating an aversion to cigarette smoking and reducing weight. Though needles are typically used, when left in the ear they lose effectiveness.
The study instead relied on ear clips, similar to ear seeds. The clips were adhered to the tragus on the outer ear in order to inhibit a branch of the vagus nerve. The ear clips did in fact slow gastric peristalsis, leaving subjects feeling full longer. The effect was significant when the ear clips were applied and while the subjects wore them.
The study's authors concluded, "Ear clips were effective in delaying gastric peristalsis, and may have value in reducing appetite in association with weight loss programs."
Many of 0ur patients, especially those who have never experienced acupuncture, have questions about the efficacy of our methods. As it turns 0ut, many western MDs are now practicing Chinese medicine, and now a group of them have put together a website where they will be aggregating studies that prove acupuncture's effectiveness for many different disorders.  The site is http://www.evidencebasedacupuncture.org/, and we intend to be checking it regularly!
After many months of careful deliberation, I have decided that it's time I put out a formal note announcing my rates and a few policies I will not only be implementing but actually enforcing beginning July 1.  The following policies will only be news for a small percentage of you, but it feels important that I put this in writing to be clear.
Rates
New patients / first visit:  $120
Established patients / after first visit:  $90 per session
Again, for most of you, this is not news.  But for those of you who have not been in for some time, you may have had a lower rate in the past.
I have changed my rates twice in the past ten years:  Once, when I first started in the Lafayette office and was taking over the space from another practitioner who charged each patient a different fee, sometimes each time they came in; and again, almost four years ago, when my established patient fee went up 8%.  The only differences now are that (1) I now have a new patient/first visit fee, like all of my fellow practitioners; and (2) I will no longer be able to offer discounted treatments below my standard fee of $90 per treatment.
Kaiser No More
For the past 12 or so years I have been a credentialed Kaiser provider for members whose service area includes Oakland up to Richmond.  (Each service area has different policies and credentialing where acupuncture is concerned.)  In fact, I was one of the first acupuncturists in the Kaiser system.  I have had a great experience working with Kaiser and have especially enjoyed the patients Kaiser has sent my way.
Unfortunately, due to some antiquated Kaiser policies, it is no longer feasible for me to see patients referred by and paid by Kaiser insurance.  In fact, at this point, it almost costs me money each time I see a patient referred by Kaiser.  I have run my concerns up the Kaiser chain of command, and what it comes down to is that, with the exception of those who are currently in the middle of a course of treatment and/or are worker's compensation cases, I will no longer be taking patients referred directly by Kaiser.
(As an aside, I happen to be a Kaiser member myself and have found many of their services quite exceptional.  They were also one of the first insurance companies, and the first HMO, to include acupuncture in their health plan, so I have no ill will here.)
Non-Kaiser Insurance
While I continue to take a limited number of worker's compensation cases, I do not bill insurance companies.  I am happy to print out an invoice with all of the necessary coding such that you may send it in to the claims address on the back of your insurance card to be reimbursed by your health care plan directly.  Many of my patients have been doing this successfully for years.  I am also happy to print out summaries of your visits at any time, including year-end summaries for tax time.
Missed Appointments
Like most practitioners, hair dressers, massage therapists and the like, I will charge people who do not show up and/or give less than 24 hours' notice for a cancelled appointment.  I have never been one to aggressively enforce this policy, but I'm turning over a new leaf, and will now be billing the full fee for a missed appointment.  I don't love doing so, but, in light of my current waiting list, missing an appointment or cancelling at the last moment makes it difficult for me to get someone else to take that spot.
Reasoning Behind These Policies
As most of you know, my highest priority is to provide each of you with the best, most effective, most appropriate health care that I can.  That means focusing intensely on each issue and sharing every resource I know of to attend to your concerns.  (That may also mean telling you that acupuncture won't work for a given condition, and checking out other allied practitioners or suggestions instead.)  I am proud of the work I do, and I want to continue doing my best and giving my all.
I have been extremely fortunate to have built a thriving practice from your referrals and Yelp reviews, and as a result, I am now busy beyond my wildest dreams.  So busy, in fact, that I am concerned about my quality of care dipping below a level with which I feel comfortable. It is my hope that, by formalizing and enforcing these simple policies, I will be able to keep my workload at a level that allows me to continue providing the care that has earned me your trust and confidence.
If you have any questions or concerns about anything I've written here, please feel free to contact me directly at 925.283.3860, or via email at jaluban@gmail.com.
Introducing:  Benjamin Dierauf, My New(ish) Officemate
Since the middle of 2013, I have added a new colleague to my office on Mondays, Fridays, and every other Saturday.  Benjamin Dierauf  has worked in Chinese medicine for over 20 years, including long stints as the head of our state acupuncture association.  He is well known by acupuncturists all over the country (he was even named "Acupuncturist of the Year" for the whole U.S. a few years ago), and has primarily worked in Berkeley and San Francisco as the head of student clinics in acupuncture schools and in private practice.  He is now building a practice here in Lafayette, and is my go-to guy when I am unavailable, or when I need treatment myself.  To learn more about Benjamin or to schedule an appointment with him, click here to go to his website Benjamindierauf.com; email him at bdierauf@gmail.com; or call him at 925.297.4785.
While I'm At It…  Other News
Some of you have wondered what I do on the days when I am out of the clinic.  I am a consummate multi-tasker, and have been working on a topical orthopedic salve based in traditional Chinese kung fu medicine.  After many years of trial and error, we believe we finally have a formula that will provide safe, effective pain relief to a wide variety of people with varied pain-related complaints.  We call it Kung Fu Goo, and it's currently being used by the Oakland Raiders, as well as other sports teams and active individuals.  My dream is to take it out of my kitchen and make it available to a much wider audience.  The latest updates on "The Goop:"  We have a trademark, a patent pending, and students in the Michigan State University Packaging Department have taken on our packaging design as their senior capstone project.
Beyond that, I have also been teaching continuing medical education courses for doctors, chiropractors, physical therapists, nurses, acupuncturists, and others around the country on select weekends.  The subject matter is non-verbal medical communication.  I recently spoke at Northwestern Medical School as part of the International Conference on Communication in Healthcare, and will speak in a few months at the California Physical Therapy Association's annual meeting.
Josie Update
Most of you have met Josie Carnita, the small black lab who keeps watch over the office while I'm there.  (Okay, she sleeps in the office, and is not much of a guard dog.)  For those who haven't been by in a while, you should know that she is still alive and well, in spite of slowing down and going somewhat deaf of late. She is somewhere between 13 and 14 years young now, and though we had a cancer scare with her a few months back, she's doing very well now and is always happy to see you.  Feel free to come by and pat her on the head any time (still free for a limited time).
(From HealthCMI.com)
Researchers conclude that ear acupuncture effectively reduces anxiety. The research team initiated the new investigation based on prior studies demonstrating that ear acupuncture reduces anxiety prior to dental treatments, surgery and during ambulance transport. The research team discovered that ear acupuncture exerts "a specific and measurable effect" on anxiety levels.
Ear acupuncture, formally referred to as auricular acupuncture by licensed acupuncturists, involves using either standard filiform acupuncture needles or special auricular acupuncture needles. In this sham controlled trial, auricular acupuncture needles of 1.5mm length were inserted and retained for a total of 20 minutes and then removed. Sham needles were applied to patients in the control group. Looking at the photos below, one can see that the sham auricular needle does not have a penetrating tip. The needles are so tiny that they are affixed to the outer ear with an adhesive backing attached to each needle. In this study, Dongbang Acuprime brand auricular needles of a 0.22 diameter and 1.5mm length were used. Electroencephalography, a recording of brain electrical activity, was used to measure the depth of sedation.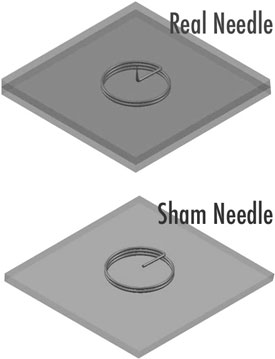 The researchers documented both anti-anxiety and sedative effects of true ear acupuncture. Sham ear acupuncture did not produce a significant reduction in anxiety levels or induce a sedative effect. Electroencephalograph (EEG) measurements taken using the Bispectral Index System (BIS) confirmed the results. The sham versus true acupuncture results confirm that the placebo effect was not responsible for the therapeutic anti-anxiety effects of the auricular acupuncture. The researchers note, "When comparing the effects of real and sham needles, it was noted that there was a significantly higher reduction of
anxiety in the real-needles group" for both the NRS (Numeric Rating Scale) anxiety score and the STAI-Y (State-Trait Anxiety Inventory) score. BIS values "were significantly reduced during the real-needles application" at the10, 15 and 20 minute measuring points. The BIS (Bispectral Index System) encephalography device used in the study is depicted below.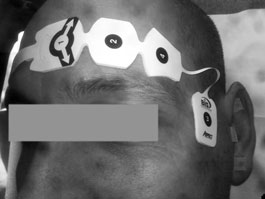 In related acupuncture continuing education research, investigators concluded that acupuncture relieves generalized anxiety disorder (GAD), a condition characterized by excessively intense and debilitating chronic anxiety. The researchers note that acupuncture has a fast effective action and high compliance. In addition, acupuncture has a relatively minimal risk of side effects compared with drug therapy. The acupuncture points in this study were located on the ankle and forearm at acupoints KI6 and LU7.
Many studies focus on the ability of acupuncture to reduce anxiety for specific conditions or situations. One recent study concludes that acupuncture reduces anxiety in women undergoing IVF (in vitro fertilization). A randomized-controlled study of 43 women undergoing IVF measured changes in anxiety levels. A total of four acupuncture treatments over a period of four weeks at a rate of once per week were administered. The acupuncture group received acupuncture at acupoints Yintang, HT7 (Shenmen), PC6 (Neiguan), CV17 (Shanzhong) and DU20 (Baihui). The control group received needle stimulation at non-acupuncture points near the areas of the true acupuncture points (sham acupuncture). The true acupuncture group showed a significant reduction in anxiety while the sham acupuncture group did not. The researchers concluded that acupuncture reduces anxiety and psychological strain for women undergoing IVF.
Another recent study receiving a great deal of attention is one that demonstrates that acupuncture reduces anxiety over dental procedures. In a patient-blinded randomized controlled investigation, researchers compared 182 patients. One group received true acupuncture at auricular points. The second group received sham acupuncture and a third group did not receive acupuncture or any medical procedures for the treatment of anxiety. The researchers measured anxiety levels prior to getting acupuncture and 20 minutes after receiving acupuncture, which was immediately prior to the administration of dental work. Anxiety levels in the true acupuncture group reduced significantly and but only very slightly in the sham acupuncture group. In the non-intervention group, anxiety increased. The researchers concluded that auricular acupuncture is both minimally invasive and "effectively reduces state anxiety before dental treatment."
Researchers conducted another double-blinded study and concluded that both auricular acupuncture and body acupuncture are effective in reducing pre and post-operative anxiety. Pre and post-perative anxiety has been identified in approximately 80 percent of patients, which prompted this investigation. The ear acupuncture group received needle stimulation at point ear Shenmen. The body acupuncture group received acupuncture needle stimulation at Du20, Si Shen Cong, Yin Tang, LV3 and ST36. The needles were 0.25-.30mm in diameter and ranged between 25-40mm in length. Needle depth ranged from 0.2cm to 0.5cm. Acupuncture therapy was administered for a period of four weeks at two sessions per week for a total of eight acupuncture treatments. The Traditional Chinese Medicine (TCM) treatment principles were to increase lucidity, tranquilize by nourishing the Heart, calm the nerves and regulate the Qi. Both ear and body style acupuncture were effective in significantly reducing anxiety.
References:
Gagliardi, Giuseppe, Mariarosa Meneghetti, Francesco Ceccherelli, Andrea Giommi, and Marco Romoli. "Auricular Acupuncture for Anxiety in Health Care Volunteers: Randomized Crossover Study Comparing Real and Sham Needles." Medical Acupuncture (2014).
Observation on the mechanism of acupuncture treatment for generalized anxiety disorder using Lieque (LU7), Zhaohai (KI6) as the main acupoints. Lin, Chuhua; Zhao, Xiaoyan; Liu, Xing; Fu, Wenbin. Bioinformatics and Biomedicine (BIBM), 2013 IEEE International Conference on. 18-21, 12-2-13
Effect of acupuncture on symptoms of anxiety in women undergoing in vitro fertilisation: a prospective randomised controlled study. Daniela Isoyama, Emerson Barchi Cordts, Angela Mara Bentes de Souza van Niewegen, Waldemar de Almeida Pereira de Carvalho, Simone Tiemi Matsumura, Caio Parente Barbosa. Acupunct Med acupmed-2011-010064Published Online First: 12 April 2012 doi:10.1136/acupmed-2011-01006.
Michalek-Sauberer, Andrea, Gusenleitner, Erich Gleiss, Andreas, Tepper, Gabor, Deusch, Engelbert. Auricular acupuncture effectively reduces state anxiety before dental treatment—a randomised controlled trial. Clinical Oral Investigations.  Springer Berlin / Heidelberg; Issn: 1432-6981, 1-6.
Shengjun Wu, Jie Liang, Xia Zhu, Xufeng Liu, Danmin Miao. "Comparing the treatment effectiveness of body acupuncture and auricular acupuncture in preoperative anxiety treatment." JRMS 2010; 16(1): 39-42.
Why would we put "relationship secrets" on our health-related website's blog when it seems to be more a pr0pos to a Cosmo magazine placement?  Because so many of our patients place their primary relationship at the center of their lives, and the way they relate to their partner, the quality of that relationship, has so much to do with the quality of their health and their lives in general.  So here you go, Lamorinda Healing Arts' foray into gooshy blog posts:  The Five Secrets to a Great Relationship (from Eric Barker's Blog, "Barking Up the Wrong Tree."
I've posted a lot about the research behind what makes relationships work — and not work. How can you remember what all these studies have to say?
Just keep the 5 R's in mind:
1. Right
2. Real
3. Rapport
4. Relate
5. Review
Let's break them down.
1. Fight right
You might think it would be great if you could have a relationship with zero arguing. But marriages with no arguments are 35 percent more likely to divorce.
Married couples who report they never argue with each other are 35 percent more likely to divorce within four years than are couples who report regularly disagreeing. [100 Simple Secrets of Great Relationships]
Things need to be worked out and you may need to compromise. Being rigid and resistant to new ideas increases conflict by 38 percent.
When asked to describe the state of their relationship, those with a high level of rigidity in habits and thinking — that is, a resistance to new things, new ideas, and changes of any sort — named 38 percent more problems in their relationship than those who were more flexible in their thinking. [100 Simple Secrets of Great Relationships]
Relationships with major disappointments followed by forgiveness are just as stable as ones without major disappointments.
Studies find that those who have experienced a significant disappointment from their partner and have successfully granted their forgiveness to their partner are as likely to maintain a satisfying relationship as are those who had never experienced a similar disappointment in their relationship. [100 Simple Secrets of Great Relationships]
You can't not argue and you can't fight to the death. You need to fight right.
If you stay compassionate and show you care — even in the midst of a screaming match — you have a better shot at happiness.
People who maintain a compassionate spirit during disagreements with their partner, considering not just the virtue of their position but the virtue of their partner, have 34 percent fewer disagreements, and the disagreements last 59 percent less time…

When couples experience conflict, they are 45 percent less likely to feel pessimistic about their relationship if they can recognize feelings of caring from their partner during the disagreement. [100 Simple Secrets of Great Relationships]
2. Keep it real
Do you expect a fairy tale relationship? That's a prescription for disappointment.
Elements of fairy tales such as Cinderella were present in 78 percent of people's beliefs about romantic love. Those people were more likely to have experienced disillusionment, devastation, and angst in their relationships than were those who gave less credence to fairy tales. [100 Simple Secrets of Great Relationships]
The modern day equivalent of fairy tales is TV. And as you might expect, watching too much TV is correlated with unsatisfying relationships.
People who watched an above average amount of television per day were 26 percent less likely to be satisfied with their relationship status than were people who watched a below average amount of television per day. [100 Simple Secrets of Great Relationships]
It's all about the bar that's set for you or the bar you set for yourself. So, as you might imagine, perfectionism does not make for a happy love life either.
People high in perfectionism, a hyperbelief in their own correctness and a desire to find a partner with similar traits, are 33 percent less likely to describe their relationship status as satisfying. [100 Simple Secrets of Great Relationships]
Be realistic about what you can and should expect from a relationship. And realize that things change. A third of the time what attracts you to someone isn't important to you six months later.
Researchers found that the traits that first attracted people to their partner were no longer relevant to 34 percent of them when asked six months or more after they began dating. [100 Simple Secrets of Great Relationships]
3. Have rapport
Talking, sharing, being open — these are all highly praised, and for good reason. Couples who communicate are 62 percent more likely to describe their relationship as happy.
In studies of marriages of various lengths, couples with a high degree of intimacy between the husband and wife—that is, couples who shared their innermost thoughts—were 62 percent more likely to describe their marriage as happy. [100 Simple Secrets of Great Relationships]
Expecting your partner to be a mind reader will just make you miserable. Want something? Ask for it.
Researchers found that those who are more direct in seeking support from their partner are 61 percent more likely to feel they received the support they wanted than are those who avoid explaining their needs. [100 Simple Secrets of Great Relationships]
If you're still shopping for a partner, look for someone with good social skills who has maintained friendships for a long time.
People with strong social skills, including an ability to maintain long-term friendships, were 32 percent more likely to be satisfied with their relationship. [100 Simple Secrets of Great Relationships]
More laughing means less fighting.
When both partners in a relationship thought the other had a good sense of humor, 67 percent less conflict was reported than in couples where neither thought the other had a good sense of humor. [100 Simple Secrets of Great Relationships]
Want your marriage to last more than 30 years? Just "being married" isn't enough: You also need to be good friends.
In studies of people happily married more than three decades, the quality of friendship between the partners was the single most frequently cited factor in the relationships' success. [100 Simple Secrets of Great Relationships]
4. Relate
Opposites do not attract. Couples that are similar do much better. Pairs that lasted longer than five years usually had a number of interests in common.
In comparing couples who remained together more than five years with couples who split up, researchers found that the couples who stayed together were 64 percent more likely to be able to identify multiple shared interests. [100 Simple Secrets of Great Relationships]
Having similar values offers a huge boost in the ability to communicate.
The degree to which couples have similar values does not change over the course of their relationship. Those with similar values, however, are 22 percent more likely to rate their communication habits positively. [100 Simple Secrets of Great Relationships]
Believe it or not, even having similar fighting styles was a good thing. It was related to double digit drops in conflict and a double digit increase in satisfaction.
While people may employ many different conflict resolution strategies in a relationship, when both partners use the same strategy they experience 12 percent less conflict and are 31 percent more likely to report their relationship is satisfying. [100 Simple Secrets of Great Relationships]
5. Review
Many people are probably reading this, identifying the good things they already do and feeling smug. Sorry, you can't stop there. Relationships are not a "check the box and you're done" kind of thing. You need to keep at it, monitoring and improving.
Which feelings and improvements matter most? Recent ones.
Satisfaction in a relationship is eight times more reliant on recent feelings and the ability to perceive improvements than it is based on the history of the relationship. [100 Simple Secrets of Great Relationships]
Plenty of research shows that conscientiousness is a great quality to have in a spouse or partner. Having a partner who is consistently reliable often means a healthy relationship with less conflict.
People who consider their partner conscientious, a person who consistently does what they say they are going to do, were 26 percent more likely to rate their relationship healthy and reported 41 percent less conflict in their relationship. Dependability was rated among the most desired qualities in a partner. [100 Simple Secrets of Great Relationships]
One more thing
Never forget that, in the end, all relationships are about feelings. Especially when fighting, we get caught up in the facts, the details, the words… And what's funny is little of that ends up mattering. When surveyed about their arguments, people mentioned feelings and tone 10 times as much as the topic of debate. Twenty-five percent of people couldn't even remember what the argument was about — but they all remembered how it made them feel.
Asked to describe three recent disagreements with their partner, people had 10 times as much to say about their feelings and the tone of the disagreement as about the topic of the disagreement. Twenty-five percent of people forgot the topic of a disagreement but could describe their feelings on the situation. [100 Simple Secrets of Great Relationships]
As Maya Angelou once said, "People will forget what you said, people will forget what you did, but people will never forget how you made them feel."
http://lamorindaacupuncture.com/category/acupuncture/page/1/
paged
No more posts to load.
Load More Posts
Loading posts...
333333
link
/%postname%/
off