After many months of careful deliberation, I have decided that it's time I put out a formal note announcing my rates and a few policies I will not only be implementing but actually enforcing beginning July 1.  The following policies will only be news for a small percentage of you, but it feels important that I put this in writing to be clear.
Rates
New patients / first visit:  $120
Established patients / after first visit:  $90 per session
Again, for most of you, this is not news.  But for those of you who have not been in for some time, you may have had a lower rate in the past.
I have changed my rates twice in the past ten years:  Once, when I first started in the Lafayette office and was taking over the space from another practitioner who charged each patient a different fee, sometimes each time they came in; and again, almost four years ago, when my established patient fee went up 8%.  The only differences now are that (1) I now have a new patient/first visit fee, like all of my fellow practitioners; and (2) I will no longer be able to offer discounted treatments below my standard fee of $90 per treatment.
Kaiser No More
For the past 12 or so years I have been a credentialed Kaiser provider for members whose service area includes Oakland up to Richmond.  (Each service area has different policies and credentialing where acupuncture is concerned.)  In fact, I was one of the first acupuncturists in the Kaiser system.  I have had a great experience working with Kaiser and have especially enjoyed the patients Kaiser has sent my way.
Unfortunately, due to some antiquated Kaiser policies, it is no longer feasible for me to see patients referred by and paid by Kaiser insurance.  In fact, at this point, it almost costs me money each time I see a patient referred by Kaiser.  I have run my concerns up the Kaiser chain of command, and what it comes down to is that, with the exception of those who are currently in the middle of a course of treatment and/or are worker's compensation cases, I will no longer be taking patients referred directly by Kaiser.
(As an aside, I happen to be a Kaiser member myself and have found many of their services quite exceptional.  They were also one of the first insurance companies, and the first HMO, to include acupuncture in their health plan, so I have no ill will here.)
Non-Kaiser Insurance
While I continue to take a limited number of worker's compensation cases, I do not bill insurance companies.  I am happy to print out an invoice with all of the necessary coding such that you may send it in to the claims address on the back of your insurance card to be reimbursed by your health care plan directly.  Many of my patients have been doing this successfully for years.  I am also happy to print out summaries of your visits at any time, including year-end summaries for tax time.
Missed Appointments
Like most practitioners, hair dressers, massage therapists and the like, I will charge people who do not show up and/or give less than 24 hours' notice for a cancelled appointment.  I have never been one to aggressively enforce this policy, but I'm turning over a new leaf, and will now be billing the full fee for a missed appointment.  I don't love doing so, but, in light of my current waiting list, missing an appointment or cancelling at the last moment makes it difficult for me to get someone else to take that spot.
Reasoning Behind These Policies
As most of you know, my highest priority is to provide each of you with the best, most effective, most appropriate health care that I can.  That means focusing intensely on each issue and sharing every resource I know of to attend to your concerns.  (That may also mean telling you that acupuncture won't work for a given condition, and checking out other allied practitioners or suggestions instead.)  I am proud of the work I do, and I want to continue doing my best and giving my all.
I have been extremely fortunate to have built a thriving practice from your referrals and Yelp reviews, and as a result, I am now busy beyond my wildest dreams.  So busy, in fact, that I am concerned about my quality of care dipping below a level with which I feel comfortable. It is my hope that, by formalizing and enforcing these simple policies, I will be able to keep my workload at a level that allows me to continue providing the care that has earned me your trust and confidence.
If you have any questions or concerns about anything I've written here, please feel free to contact me directly at 925.283.3860, or via email at jaluban@gmail.com.
Introducing:  Benjamin Dierauf, My New(ish) Officemate
Since the middle of 2013, I have added a new colleague to my office on Mondays, Fridays, and every other Saturday.  Benjamin Dierauf  has worked in Chinese medicine for over 20 years, including long stints as the head of our state acupuncture association.  He is well known by acupuncturists all over the country (he was even named "Acupuncturist of the Year" for the whole U.S. a few years ago), and has primarily worked in Berkeley and San Francisco as the head of student clinics in acupuncture schools and in private practice.  He is now building a practice here in Lafayette, and is my go-to guy when I am unavailable, or when I need treatment myself.  To learn more about Benjamin or to schedule an appointment with him, click here to go to his website Benjamindierauf.com; email him at bdierauf@gmail.com; or call him at 925.297.4785.
While I'm At It…  Other News
Some of you have wondered what I do on the days when I am out of the clinic.  I am a consummate multi-tasker, and have been working on a topical orthopedic salve based in traditional Chinese kung fu medicine.  After many years of trial and error, we believe we finally have a formula that will provide safe, effective pain relief to a wide variety of people with varied pain-related complaints.  We call it Kung Fu Goo, and it's currently being used by the Oakland Raiders, as well as other sports teams and active individuals.  My dream is to take it out of my kitchen and make it available to a much wider audience.  The latest updates on "The Goop:"  We have a trademark, a patent pending, and students in the Michigan State University Packaging Department have taken on our packaging design as their senior capstone project.
Beyond that, I have also been teaching continuing medical education courses for doctors, chiropractors, physical therapists, nurses, acupuncturists, and others around the country on select weekends.  The subject matter is non-verbal medical communication.  I recently spoke at Northwestern Medical School as part of the International Conference on Communication in Healthcare, and will speak in a few months at the California Physical Therapy Association's annual meeting.
Josie Update
Most of you have met Josie Carnita, the small black lab who keeps watch over the office while I'm there.  (Okay, she sleeps in the office, and is not much of a guard dog.)  For those who haven't been by in a while, you should know that she is still alive and well, in spite of slowing down and going somewhat deaf of late. She is somewhere between 13 and 14 years young now, and though we had a cancer scare with her a few months back, she's doing very well now and is always happy to see you.  Feel free to come by and pat her on the head any time (still free for a limited time).
(From HealthCMI.com)
Researchers conclude that ear acupuncture effectively reduces anxiety. The research team initiated the new investigation based on prior studies demonstrating that ear acupuncture reduces anxiety prior to dental treatments, surgery and during ambulance transport. The research team discovered that ear acupuncture exerts "a specific and measurable effect" on anxiety levels.
Ear acupuncture, formally referred to as auricular acupuncture by licensed acupuncturists, involves using either standard filiform acupuncture needles or special auricular acupuncture needles. In this sham controlled trial, auricular acupuncture needles of 1.5mm length were inserted and retained for a total of 20 minutes and then removed. Sham needles were applied to patients in the control group. Looking at the photos below, one can see that the sham auricular needle does not have a penetrating tip. The needles are so tiny that they are affixed to the outer ear with an adhesive backing attached to each needle. In this study, Dongbang Acuprime brand auricular needles of a 0.22 diameter and 1.5mm length were used. Electroencephalography, a recording of brain electrical activity, was used to measure the depth of sedation.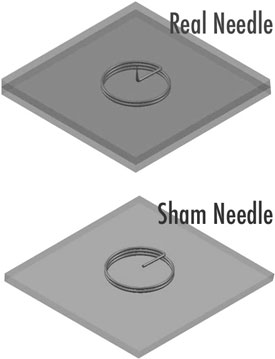 The researchers documented both anti-anxiety and sedative effects of true ear acupuncture. Sham ear acupuncture did not produce a significant reduction in anxiety levels or induce a sedative effect. Electroencephalograph (EEG) measurements taken using the Bispectral Index System (BIS) confirmed the results. The sham versus true acupuncture results confirm that the placebo effect was not responsible for the therapeutic anti-anxiety effects of the auricular acupuncture. The researchers note, "When comparing the effects of real and sham needles, it was noted that there was a significantly higher reduction of
anxiety in the real-needles group" for both the NRS (Numeric Rating Scale) anxiety score and the STAI-Y (State-Trait Anxiety Inventory) score. BIS values "were significantly reduced during the real-needles application" at the10, 15 and 20 minute measuring points. The BIS (Bispectral Index System) encephalography device used in the study is depicted below.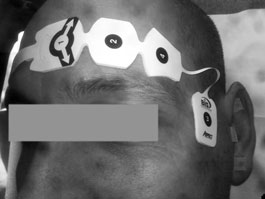 In related acupuncture continuing education research, investigators concluded that acupuncture relieves generalized anxiety disorder (GAD), a condition characterized by excessively intense and debilitating chronic anxiety. The researchers note that acupuncture has a fast effective action and high compliance. In addition, acupuncture has a relatively minimal risk of side effects compared with drug therapy. The acupuncture points in this study were located on the ankle and forearm at acupoints KI6 and LU7.
Many studies focus on the ability of acupuncture to reduce anxiety for specific conditions or situations. One recent study concludes that acupuncture reduces anxiety in women undergoing IVF (in vitro fertilization). A randomized-controlled study of 43 women undergoing IVF measured changes in anxiety levels. A total of four acupuncture treatments over a period of four weeks at a rate of once per week were administered. The acupuncture group received acupuncture at acupoints Yintang, HT7 (Shenmen), PC6 (Neiguan), CV17 (Shanzhong) and DU20 (Baihui). The control group received needle stimulation at non-acupuncture points near the areas of the true acupuncture points (sham acupuncture). The true acupuncture group showed a significant reduction in anxiety while the sham acupuncture group did not. The researchers concluded that acupuncture reduces anxiety and psychological strain for women undergoing IVF.
Another recent study receiving a great deal of attention is one that demonstrates that acupuncture reduces anxiety over dental procedures. In a patient-blinded randomized controlled investigation, researchers compared 182 patients. One group received true acupuncture at auricular points. The second group received sham acupuncture and a third group did not receive acupuncture or any medical procedures for the treatment of anxiety. The researchers measured anxiety levels prior to getting acupuncture and 20 minutes after receiving acupuncture, which was immediately prior to the administration of dental work. Anxiety levels in the true acupuncture group reduced significantly and but only very slightly in the sham acupuncture group. In the non-intervention group, anxiety increased. The researchers concluded that auricular acupuncture is both minimally invasive and "effectively reduces state anxiety before dental treatment."
Researchers conducted another double-blinded study and concluded that both auricular acupuncture and body acupuncture are effective in reducing pre and post-operative anxiety. Pre and post-perative anxiety has been identified in approximately 80 percent of patients, which prompted this investigation. The ear acupuncture group received needle stimulation at point ear Shenmen. The body acupuncture group received acupuncture needle stimulation at Du20, Si Shen Cong, Yin Tang, LV3 and ST36. The needles were 0.25-.30mm in diameter and ranged between 25-40mm in length. Needle depth ranged from 0.2cm to 0.5cm. Acupuncture therapy was administered for a period of four weeks at two sessions per week for a total of eight acupuncture treatments. The Traditional Chinese Medicine (TCM) treatment principles were to increase lucidity, tranquilize by nourishing the Heart, calm the nerves and regulate the Qi. Both ear and body style acupuncture were effective in significantly reducing anxiety.
References:
Gagliardi, Giuseppe, Mariarosa Meneghetti, Francesco Ceccherelli, Andrea Giommi, and Marco Romoli. "Auricular Acupuncture for Anxiety in Health Care Volunteers: Randomized Crossover Study Comparing Real and Sham Needles." Medical Acupuncture (2014).
Observation on the mechanism of acupuncture treatment for generalized anxiety disorder using Lieque (LU7), Zhaohai (KI6) as the main acupoints. Lin, Chuhua; Zhao, Xiaoyan; Liu, Xing; Fu, Wenbin. Bioinformatics and Biomedicine (BIBM), 2013 IEEE International Conference on. 18-21, 12-2-13
Effect of acupuncture on symptoms of anxiety in women undergoing in vitro fertilisation: a prospective randomised controlled study. Daniela Isoyama, Emerson Barchi Cordts, Angela Mara Bentes de Souza van Niewegen, Waldemar de Almeida Pereira de Carvalho, Simone Tiemi Matsumura, Caio Parente Barbosa. Acupunct Med acupmed-2011-010064Published Online First: 12 April 2012 doi:10.1136/acupmed-2011-01006.
Michalek-Sauberer, Andrea, Gusenleitner, Erich Gleiss, Andreas, Tepper, Gabor, Deusch, Engelbert. Auricular acupuncture effectively reduces state anxiety before dental treatment—a randomised controlled trial. Clinical Oral Investigations.  Springer Berlin / Heidelberg; Issn: 1432-6981, 1-6.
Shengjun Wu, Jie Liang, Xia Zhu, Xufeng Liu, Danmin Miao. "Comparing the treatment effectiveness of body acupuncture and auricular acupuncture in preoperative anxiety treatment." JRMS 2010; 16(1): 39-42.