Can we, as adults, grow new neurons? Neuroscientist Sandrine Thuret says that we can, and she offers research and practical advice on how we can help our brains better perform neurogenesis—improving mood, increasing memory formation and preventing the decline associated with aging along the way. Want to cut to the chase? In her TED talk (which you can access here), she suggests that learning, sex, getting good sleep, calorie restriction and intermittent fasting, as well as eating more food with Omega 3s, and cardiovascular exercise such as running, all increase neurogenesis. What are some things that decrease your ability to create new neurons? Stress, lack of good sleep, alcohol, saturated fats, as well as diets high in fats. Rather than bore you with my own excitement about her findings, I suggest that you watch her video, which is only about 12 minutes long.
People often ask me what the most common condition is that I see, and while I see a wide variety of issues, I would have to say that orthopedic conditions are the number one reason why people come in. Within that, back pain is far and away the most common complaint. In fact, most surveys of primary care physicians find that back pain is the number one or number two most common reason why people come in (insomnia is usually number one or number two as well).
As so often happens in my practice, I get the latest news on a given condition or procedure from my patients. In the age of the Internet, it seems that nearly anybody who is curious about a given subject may find information on it on the web, though there is also a lot of misinformation out there. Just the other day, hey patient with a history of back pain referred me to an article in the Wall Street Journal about the benefits of functional restoration as an alternative to many of the more invasive procedures often given as the standard of care for back pain. Rather than summarize the article, I am pasting it here to share with you (http://www.wsj.com/articles/new-help-for-back-pain-1448311243?mod=e2fb).
http://www.youtube.com/embed/NyahTD7oB8w?autoplay=0&wmode=transparent&autohide=1&showinfo=0&rel=0
From the blog of Subtle Energy Sciences comes this short 3-minute video introducing the work of scientists at Seoul National University in Korea who have apparently confirmed the existence of what is now referred to as the "primo-vascular system," a crucial part of the cardiovascular system. Formerly proposed to exist by North Korean scientist Kim Bong-han in the early 1960's, and typically called Bonghan ducts or channels, the existence of this system in various organs has now been corroborated by further research.
These researchers believe the primo-vascular system is in fact the physical component of the Acupuncture meridian system. It has also been suggested that this system is involved in channeling the flow of energy and information relayed by biophotons and DNA.
Many people who experience relief from acupuncture or other modalities wonder if it was the treatment, or the placebo effect.  My typical response is that I don't care, so long as they feel better.
Much has been written about the Placebo Effect, and the article by Todd Hargrove which I'm attaching here has what I feel is a great explanation of it. Some text from the conclusion is below, and the full article may be read here.
The science of placebo is very interesting and informative. It is not unreasonable to suppose that a good degree of the success seen in movement-based therapies is through placebo-like effects, or through getting rid of nocebos. But I think the word placebo can be confusing. It refers to a wide variety of different phenomena that have different effects through different mechanisms.

Some placebo effects work through anxiety reduction, others through activation of the reward system, and others through descending inhibition of nociception. The common thread is they are all created by cognitive inputs – information that changes what the patient expects or believes about their health.

And this relates to another problem with the word placebo – it suggests that treatments which work through changes in client expectation are somehow inert, or ineffective, or not meaningful, or unethical, or even a scam. Of course this may very well be the case when the treatment is a sugar pill, or based on pseudoscience or quackery. In these instances, the clients' expectations and beliefs are changed because they are deceived, and this is in most cases unethical.

But what if a treatment works primarily through changes in belief and expectation,but in a way that changes those beliefs to be more accurate? Consider the following scenarios, all of which might be described as involving placebo effects, but none of which involve deception:

a client is given accurate information about the poor correlation between back pain and objective MRI findings. This lowers his anxiety and pain.
a client is shown through passive and active movement that it is possible for her to bend forward without pain if she does so in a different manner. This reduces her anxiety, makes her expect benefit from therapy, and this reduces her pain.
a client receives compassionate and empathetic treatment from a caring therapist. This lowers his anxiety, makes him expect benefit, and thereby reduces his pain.
a client has had many past experiences with massage causing pain relief, and this learned association contributes to further pain relief from massage.

Are these all placebo effects? It is true that they all work in large part by changing the client's beliefs. But that was the whole point of the treatment in the first place! So there should be no suggestion that the treatments are inert, ineffective or deceptive. Using the word placebo in these cases can be stigmatizing and confusing.

I prefer to look at it this way: pain results from perception of threat, and it can be treated by providing the client as much good news as possible about the threat in question.

Does this present an ethical issue? Only when that good news is built from lies and not the truth. Fortunately, I think there are many optimistic truths that clients can learn from therapists through touch, movement, and conversation.
Given that we're in the midst of the holiday season, and are likely adding far more strange and atypical foods to our diet than at other times of year, I thought it apropos to put in some bloggage about food poisoning, and what can be done for it.
Acupuncture Treats Food Poisoning
By: Diane Joswick, L.Ac., MSOM
Every year millions of people suffer from bouts of vomiting and diarrhea due to food poisoning. The Centers for Disease Control and Prevention (CDC) estimates that there are as many as 33 million cases of food poisoning in the United States annually.
While most cases are mild and pass so rapidly that they are never diagnosed, occasionally a severe outbreak creates a newsworthy public health hazard. The recent outbreak in the United States is such a case.
More than 11 weeks into the biggest Salmonella outbreak linked to fresh produce ever in the United States, a strain of Salmonella has sickened over 869 people across the country, causing tomatoes to be pulled from shelves and restaurants.
Acupuncture and Oriental medicine can be of great help when it comes to relieving symptoms of and recovering from food poisoning. In most cases, the recommendation for food poisoning is to rest and drink plenty of fluids. Acupuncture and Oriental medicine can actually relieve symptoms, hasten recovery and also strengthen the digestive system to prevent future incidents of food poisoning, avert the development of chronic immune deficiencies and increase energy levels.
What is Food Poisoning?
Food poisoning is a general term for any illness arising from eating contaminated foods. Also known as foodborne illness, infectious diarrhea or gastroenteritis, food poisoning is generated by a variety of microorganisms including bacteria, viruses and parasites. The most common bacteria to cause food poisoning are salmonella, staphylococcus aureus, E. coli and shigella.
Food poisoning is marked by severe diarrhea, fever, cramping, abdominal pain, flu-like symptoms, vomiting and diarrhea. Most cases of food poisoning clear up on their own within a week without any medical assistance; however, it can take several months before bowel habits return to normal. Often the digestive system is severely weakened after a bout of food poisoning, making the infected person more susceptible to food poisoning in the future. A small number of persons with food poisoning develop an autoimmune disease called Reiter's syndrome. It can last for months or years, and can lead to chronic arthritis.

Diagnosis and Treatment of Food Poisoning
In Oriental medicine, food poisoning is recognized as dampness and heat in the stomach and intestines due to the ingestion of unclean food or drink. Traditionally, damp heat conditions were seen mostly in the summer months when heat and humidity are at their peak. It is interesting to note that the CDC confirms that most cases occur in the warm months between July and October.
Treatment of food poisoning is rest and hydration to prevent fluid and electrolyte loss through vomiting and diarrhea. Acupuncture and Oriental medicine can be used to relieve nausea and vomiting, hasten recovery by assisting the body to eliminate the pathogen faster, and strengthen the digestive system to prevent any reoccurrences as well as the development of a chronic immune disorder.
Is your digestive system functioning as well as it could?  Acupuncture and Oriental medicine are extremely effective at treating a wide array of digestive disorders.  Call a licensed practitioner near you for more information or to schedule and appointment.
Points for Food Poisoning
Acupuncture treatments are aimed at draining dampness and heat from the intestines to remove the pathogen while simultaneously calming the stomach to stop nausea and vomiting. After the acute symptoms subside, treatments are focused on strengthening the digestive system and improving energy levels to bring about a full recovery.
While many different acupuncture points are used, depending on your specific symptoms and the state of your overall health, here are some acupuncture points that are commonly used to treat gastroenteritis:

Stomach 25 (St 25) and Ren 4 (Co 4) are two acupuncture points located on the abdomen around the umbilicus. They are used for abdominal pain, cramping and to drain heat and damp from the intestines.
Stomach 36 (St 36) is located on the shin, below the knee (see image above). It is a very powerful point used to adjust and balance the physiological activity of the digestive system and relieve stomach pain. It is one of the major points on the body for the GI tract. It triggers the body to increase the secretion of hydrochloric acid, dissolve food and move it out of the stomach and intestines.
Pericardium 6 (Pc 6) is located two finger breadths above the inside of the wrist. This acupuncture point alleviates nausea.
How to Prevent Food Poisoning
Here are four simple guidelines to ensure that your summer holidays are not memorable for all the wrong reasons!
Clean, Separate, Cook and Chill
Clean: Wash hands, surfaces, utensils and platters often. Rinse all produce in cold running water before peeling, cutting or eating.
Separate: Keep foods that won't be cooked separate from raw meat and poultry. Don't use the same platter and utensils for raw and cooked meat and poultry.
Cook: Cook food to a safe minimum internal temperature to destroy harmful bacteria.
Chill: Refrigerate any leftovers promptly in shallow containers.
* If you are ill with diarrhea or vomiting, do not prepare food for others, especially infants, the elderly and those with weakened immune systems since they are more vulnerable to infection.
Ginger for Intestinal Upset
Did you know that ginger is always served with sushi because of its ability to prevent food poisoning?
Ginger has been found to increase the secretion of gastric juice and the production of hypochloride. This means that food is digested more quickly; creating an unfriendly environment for bacteria that could wreak havoc with your stomach and intestines.
Ginger works as well at treating the symptoms of food poisoning as it does preventing them. In fact, ginger can be used for most digestive upsets that involve nausea, vomiting, cramping, abdominal pain, indigestion or diarrhea.
Whether your digestive problem is due to eating contaminated food, stomach flu, pregnancy or motion sickness, ginger is one of the most effective agents around!
Ever wonder why some acupuncture points are used in almost every treatment? Why it is common to have a needle placed a little below your knee, on your wrist, in the web of your hand, or on your lower leg? It is because those points are some of the most powerful and useful points in Chinese medicine. I refer to those frequently used acupuncture points as superhero points.
Everyone loves superheroes, they save the world. A popular debate among superhero lovers is which superhero is the best. Is Superman the coolest because he has superpowers but is able to blend in with the people while he saves Metropolis? Perhaps Batman is the favorite because he has no superpowers but stays levelheaded in order to save Gotham? Maybe The Flash is the ultimate superhero because he is faster than the speed of light? It could be that Wolverine is best because he is indestructible but endures tremendous pain in order to save the world? Or is Spiderman the greatest superhero because he was bitten by a radioactive spider, giving him superpowers and ultimately becoming a superhero? Acupuncturists have similar discussions regarding which acupuncture points are considered the "superheroes" of acupuncture.
Stomach (ST) 36 is the most common point to choose, it is the "Superman" of acupuncture points. Located below the knee, ST 36 tonifies qi and blood, harmonizes the intestines, benefits the stomach and spleen, transforms dampness, benefits the spirit, dispels pathogens, courses wind, and helps prevent disease (Deadman 158). It is arguably the most important point on the stomach channel, a channel that contains 45 points. It is not, however, an extra point or part of an extraordinary vessel rather it is one point in a large channel. This is very similar to Superman who has the strength and power to save everyone but as soon as he puts on his glasses, he is an average citizen.
The "Batman" of points is Pericardium (PC) 6 because it protects the heart, just as Batman protects Gotham. Located proximal to the wrist crease, PC 6 helps calm the spirit and most importantly, suppresses pain. PC 6 is also used for nausea and vomiting especially in cases of morning sickness (Deadman 376-377). This point is often used because people need to be calm in order to be healthy. Similarly, Batman's ability to stay calm and think with a clear mind, allows him to protect the city of Gotham.
Liver (LV) 5 is The Flash of points. It strongly courses liver qi throughout the body, moving qi quickly just like The Flash. Everyday people feel stuck because their qi is unable to move and they become frustrated. When LV 5, located on the lower leg, is stimulated, qi starts moving faster and people feel more relaxed. It is a wonderful point for anyone who needs a pick-me-up (Deadman 482-483).
Large Intestine (LI) 4, located in the web of a hand between the thumb and pointer finger, is comparable to Wolverine because despite its tenderness it helps heal the body quickly. It can promote labor, cure a headache, prevent sickness, and even help with back pain (Deadman 103-106). Most people find LI 4 painful, but it is a small price to pay in order to help almost every ailment. Wolverine is comparable to LI 4, as he too experiences initial pain when helping people but powers through, as he know it's a necessary side effect.
Spiderman was a nerdy high school student who from one radioactive spider bite became stronger, smarter, and faster. Spleen (SP) 6 is similar to the spider bite because stimulating SP 6 can help turn a common weakness into a strength. SP 6 tonifies blood, benefits kidney yin, and spreads qi. Located on the lower leg, it can help build a person's blood, calm their mind, and move their qi (Deadman 189-192). It has the ability to help transform someone into a superhero.
Each of these points have their own "superpowers." They can help heal sickness and stop pain. They are the Superman, Batman, The Flash, Wolverine, and Spiderman of acupuncture points. Just like their alter egos each point saves lives. We will never know which superhero is the strongest, just as we will never know which acupuncture point is the most effective — it simply depends on the individual patient. Sometimes the patient needs a point that treats every ailment, sometimes they'll need a point that protects the heart, or even one that moves qi fast or strengthens the body. Sometimes, they may need them all.
Citations
Deadman, Peter, Mazin Khafaji, and Kevin Baker. A manual of acupuncture. Hove, East Sussex, England: Journal of Chinese Medicine Publications ;, 2007. Print.
Many of 0ur patients, especially those who have never experienced acupuncture, have questions about the efficacy of our methods. As it turns 0ut, many western MDs are now practicing Chinese medicine, and now a group of them have put together a website where they will be aggregating studies that prove acupuncture's effectiveness for many different disorders.  The site is http://www.evidencebasedacupuncture.org/, and we intend to be checking it regularly!
(From HealthCMI.com)
Researchers conclude that ear acupuncture effectively reduces anxiety. The research team initiated the new investigation based on prior studies demonstrating that ear acupuncture reduces anxiety prior to dental treatments, surgery and during ambulance transport. The research team discovered that ear acupuncture exerts "a specific and measurable effect" on anxiety levels.
Ear acupuncture, formally referred to as auricular acupuncture by licensed acupuncturists, involves using either standard filiform acupuncture needles or special auricular acupuncture needles. In this sham controlled trial, auricular acupuncture needles of 1.5mm length were inserted and retained for a total of 20 minutes and then removed. Sham needles were applied to patients in the control group. Looking at the photos below, one can see that the sham auricular needle does not have a penetrating tip. The needles are so tiny that they are affixed to the outer ear with an adhesive backing attached to each needle. In this study, Dongbang Acuprime brand auricular needles of a 0.22 diameter and 1.5mm length were used. Electroencephalography, a recording of brain electrical activity, was used to measure the depth of sedation.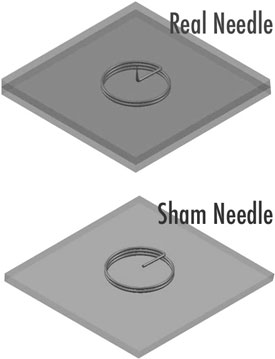 The researchers documented both anti-anxiety and sedative effects of true ear acupuncture. Sham ear acupuncture did not produce a significant reduction in anxiety levels or induce a sedative effect. Electroencephalograph (EEG) measurements taken using the Bispectral Index System (BIS) confirmed the results. The sham versus true acupuncture results confirm that the placebo effect was not responsible for the therapeutic anti-anxiety effects of the auricular acupuncture. The researchers note, "When comparing the effects of real and sham needles, it was noted that there was a significantly higher reduction of
anxiety in the real-needles group" for both the NRS (Numeric Rating Scale) anxiety score and the STAI-Y (State-Trait Anxiety Inventory) score. BIS values "were significantly reduced during the real-needles application" at the10, 15 and 20 minute measuring points. The BIS (Bispectral Index System) encephalography device used in the study is depicted below.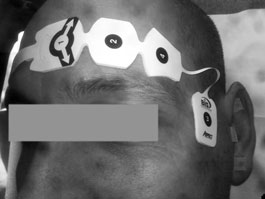 In related acupuncture continuing education research, investigators concluded that acupuncture relieves generalized anxiety disorder (GAD), a condition characterized by excessively intense and debilitating chronic anxiety. The researchers note that acupuncture has a fast effective action and high compliance. In addition, acupuncture has a relatively minimal risk of side effects compared with drug therapy. The acupuncture points in this study were located on the ankle and forearm at acupoints KI6 and LU7.
Many studies focus on the ability of acupuncture to reduce anxiety for specific conditions or situations. One recent study concludes that acupuncture reduces anxiety in women undergoing IVF (in vitro fertilization). A randomized-controlled study of 43 women undergoing IVF measured changes in anxiety levels. A total of four acupuncture treatments over a period of four weeks at a rate of once per week were administered. The acupuncture group received acupuncture at acupoints Yintang, HT7 (Shenmen), PC6 (Neiguan), CV17 (Shanzhong) and DU20 (Baihui). The control group received needle stimulation at non-acupuncture points near the areas of the true acupuncture points (sham acupuncture). The true acupuncture group showed a significant reduction in anxiety while the sham acupuncture group did not. The researchers concluded that acupuncture reduces anxiety and psychological strain for women undergoing IVF.
Another recent study receiving a great deal of attention is one that demonstrates that acupuncture reduces anxiety over dental procedures. In a patient-blinded randomized controlled investigation, researchers compared 182 patients. One group received true acupuncture at auricular points. The second group received sham acupuncture and a third group did not receive acupuncture or any medical procedures for the treatment of anxiety. The researchers measured anxiety levels prior to getting acupuncture and 20 minutes after receiving acupuncture, which was immediately prior to the administration of dental work. Anxiety levels in the true acupuncture group reduced significantly and but only very slightly in the sham acupuncture group. In the non-intervention group, anxiety increased. The researchers concluded that auricular acupuncture is both minimally invasive and "effectively reduces state anxiety before dental treatment."
Researchers conducted another double-blinded study and concluded that both auricular acupuncture and body acupuncture are effective in reducing pre and post-operative anxiety. Pre and post-perative anxiety has been identified in approximately 80 percent of patients, which prompted this investigation. The ear acupuncture group received needle stimulation at point ear Shenmen. The body acupuncture group received acupuncture needle stimulation at Du20, Si Shen Cong, Yin Tang, LV3 and ST36. The needles were 0.25-.30mm in diameter and ranged between 25-40mm in length. Needle depth ranged from 0.2cm to 0.5cm. Acupuncture therapy was administered for a period of four weeks at two sessions per week for a total of eight acupuncture treatments. The Traditional Chinese Medicine (TCM) treatment principles were to increase lucidity, tranquilize by nourishing the Heart, calm the nerves and regulate the Qi. Both ear and body style acupuncture were effective in significantly reducing anxiety.
References:
Gagliardi, Giuseppe, Mariarosa Meneghetti, Francesco Ceccherelli, Andrea Giommi, and Marco Romoli. "Auricular Acupuncture for Anxiety in Health Care Volunteers: Randomized Crossover Study Comparing Real and Sham Needles." Medical Acupuncture (2014).
Observation on the mechanism of acupuncture treatment for generalized anxiety disorder using Lieque (LU7), Zhaohai (KI6) as the main acupoints. Lin, Chuhua; Zhao, Xiaoyan; Liu, Xing; Fu, Wenbin. Bioinformatics and Biomedicine (BIBM), 2013 IEEE International Conference on. 18-21, 12-2-13
Effect of acupuncture on symptoms of anxiety in women undergoing in vitro fertilisation: a prospective randomised controlled study. Daniela Isoyama, Emerson Barchi Cordts, Angela Mara Bentes de Souza van Niewegen, Waldemar de Almeida Pereira de Carvalho, Simone Tiemi Matsumura, Caio Parente Barbosa. Acupunct Med acupmed-2011-010064Published Online First: 12 April 2012 doi:10.1136/acupmed-2011-01006.
Michalek-Sauberer, Andrea, Gusenleitner, Erich Gleiss, Andreas, Tepper, Gabor, Deusch, Engelbert. Auricular acupuncture effectively reduces state anxiety before dental treatment—a randomised controlled trial. Clinical Oral Investigations.  Springer Berlin / Heidelberg; Issn: 1432-6981, 1-6.
Shengjun Wu, Jie Liang, Xia Zhu, Xufeng Liu, Danmin Miao. "Comparing the treatment effectiveness of body acupuncture and auricular acupuncture in preoperative anxiety treatment." JRMS 2010; 16(1): 39-42.
By Sara Calabro
Happy 2014! The new year is officially underway, so it's time to get serious about any changes or improvements that you've committed to making in 2014. How are you going to be healthier? In what ways will you be different at this time next year?
Acupuncture can help you get to that desired place. It can make you healthier and happier—in ways you probably never imagined.
Through receiving acupuncture, becoming aware of its principles, and incorporating acupuncture-inspired self-care techniques into your life, you can enjoy physical and emotional benefits that may have eluded you in the past.
This is your year! Here are 14 things that acupuncture can help you achieve in 2014.
Less stress
Acupuncture is well known for its ability to lower stress. It takes the edge off by removing you from the perpetual state of sympathetic dominance in which so many of us find ourselves. By mellowing out the nervous system, acupuncture will help you feel less affected by and better equipped to manage the stressful aspects of life.
Regular acupuncture treatments are fantastic for keeping stress in check. Acupuncture-inspired self-care goes a long way as well. Watch this video for a simple, DIY stress-reduction technique. Check out 10 tips from acupuncturists for lowering stress. And don't miss this two-part series on acupressure points for stress reduction.
Stronger immune system
Acupuncture strengthens natural resistance to disease. Forget endorphins. Forget improved blood circulation. Forget placebo. This is how acupuncture works, by bolstering your reserve and equipping you to fight off pathogens.
Acupuncture strengthens the immune system so that you can avoid illness rather than dealing with it after it happens.
Learn about four acupuncture points that strengthen immunity. When used as part of a regular acupressure routine, these points can help you avoid the flu this year. And if you've already suffered through the flu, these four points will help prevent a recurrence.
Self-awareness
Acupuncture looks at how root imbalances affect the whole system. This means that when one thing is out of whack, it can affect you in multiple ways. By thinking of yourself as a complex, interconnected system, it becomes easier to understand why you might be feeling unwell. Acupuncture broadens your awareness of the things that can potentially influence your physical and emotional health.
A more youthful appearance
Acupuncture can make you look younger. Seriously.
Acupuncture strengthens your five most essential organ systems—Kidney, Spleen, Liver, Lung, and Heart—so that you are systemically healthier. This can not only make you feel younger, by improving your energy levels, but it can actually prevent physical signs of aging.
Got your attention? Learn more in this article on how each of the five essential organ systems influences the aging process—and how acupuncture can make you look and feel 25 again!
Smooth and glowing skin
If your battle against aging has mainly to do with your skin, you may have considered cosmetic acupuncture. Cosmetic acupuncture, or facial rejuvenation acupuncture, got a lot of press last year. Celebrities swear by it. Some acupuncturists are basing their entire practices on it. Indeed, natural alternatives to Botox and prescription acne medications are in high demand, and acupuncture is emerging as a leading solution.
Read this interview with a cosmetic acupuncture expert who teaches the technique to acupuncturists throughout the United States and aboard.
Less pain
When people think about acupuncture and what it can help with, pain is usually the first thing that comes to mind. But acupuncture's ability to reduce pain goes beyond the physical benefits, such as improved blood flow and the release of pain-relieving endorphins and serotonin.
There is a significant emotional component to pain, especially pain that is chronic. This is why so many cases of pain go unabated by pain killers and anti-inflammatory medications. Treating pain effectively—that is, treating it in a way that addresses the root causes—requires approaching it holistically. Acupuncture excels at this.
Read more about acupuncture for chronic pain in this article.
A flatter stomach
Acupuncture offers a whole new take on why many people suffer from bloating, as well as reflux, constipation, and other digestive disorders. The paired Spleen and Stomach are the main organs associated with digestion. This refers to the digestion of food as well as the digestion of thought. From an acupuncture perspective, over thinking, like over eating, can lead to bloating and digestive discomfort.
Read this article on how acupuncture reduces bloating by keeping the Spleen and Stomach in balance. And don't miss these 11 self-care tips from acupuncturists for reducing bloating.
Quality sleep
Insomnia is stubborn. Tons of people have it—it's one of the most common complaints seen by acupuncturists—but for many different reasons. Because acupuncture looks at each patient as an individual, regular treatments can be highly effective for people who haven't found relief in sleep medications or other one-size-fits-all solutions.
This article outlines a sampling of some common imbalances that cause people to struggle with sleep. Do you recognize your personal brand of insomnia?
More energy
Although it's common to find yourself in "acu land"—a somewhat dazed, blissfully relaxed state—during and immediately following acupuncture treatment, the after effect is usually increased energy. Many people report having more energy in the hours, days and even weeks after acupuncture treatment. You may notice that you're avoiding that post-lunch coma, feeling more motivated to hit the gym, or just sensing a little extra spring in your step.
More patience
Let's face it: We're impatient. Our go-go-go society and the technology we've come to rely on has acclimated us to quick fixes. It perpetuates the "I want it now" mentality that dominates most of our worlds. This creates chronic impatience.
Acupuncture, because it works but rarely overnight, can help us combat this. Acupuncture is an ongoing process that requires an investment of time and a willingness to let go of our desire for instant gratification. It will make you a more patient person.
Better sex
The multifaceted nature of sexuality means that many systems throughout the body play a role, and seemingly unrelated symptoms or habits can influence whether someone has a fulfilling sex life. Acupuncturists, because they are trained to view their patients holistically, are experts at making these connections and restoring balance so that you're able to fully experience and enjoy sex.
Want to learn more about this? Thought so. Read this.
Open mindedness
Acupuncture, although becoming more widely used, is still not the norm. Most doctors, as well as some family, friends and colleagues, regard mainstream medicine as the only acceptable form of healthcare. Acupuncture requires you to think about health in entirely new ways because it turns mainstream medical tenets on their head. It will remind you that there are multiple ways of seeing the world—and that "popular" doesn't always equal "right."
A boost in confidence
The driving idea behind acupuncture is that we're already in possession of everything we need to be well. Acupuncture does not add or subtract anything. Rather, it prompts the body to do what it already knows how to do. It reminds you that you have the power to heal yourself.
This does not mean that external interventions such as pharmaceuticals or surgery should always be shunned—in many cases, these are life saving measures. But it does mean that becoming healthier, whatever that means to you, is within your control. This can be an empowering, confidence-boosting realization.
Greater compassion for others
When you understand yourself better, which acupuncture helps you do by making you more self aware, you become better at cultivating compassion for others. You're not the only one who's a mishmash of interconnected organs and meridians that can at any moment become out of balance, resulting in unexpected reactions. Acupuncture reminds us that we're allinterconnected—through our environment and the energies that we put out into the world.
So this year, when someone annoys you or hurts you or looks at you the wrong way, try to remember that it's not about you. They're on their journey at the same time that you're on yours—toward health, toward happiness, toward whatever's next. Acupuncture can help all of us get there.
We believe that health is an ongoing choice, not just a thoughtless assumption. That it is a state of mind, not a label to be handed out by 'experts' or a rarefied condition of perfect balance.  That health is dynamic balance, flexibility, and most important, is measured not by your level of painlessness, but by your quality of life.
We believe that your health cannot be outsourced. You are the Chairman and CEO of your own health, the Director of your own Human Resources. That, as your own supervisor, you always have choices, and the ultimate decision about any path you take never rests with anyone but you. That you are the best judge of your own health, and what may be healthy for one person is not necessarily healthy for the next.
We believe that medical practitioners are useful and may occasionally be all that you need when things go off-track, but that if they don't 'fix' you, it is your responsibility to heal yourself.
We believe that you should be prepared to ask questions of medical authorities, not because they are wrong or don't care, but because they can never be as interested in getting you well as you are. And you should be prepared for the fact that they may indeed be wrong. After all, knowledge and wisdom are accumulated not by being correct from the outset, but by testing hypotheses, and every diagnosis you are given is simply a theory that is being tested…on you.
We believe that you are not a diagnosis, not a treatment, and that you cannot be categorized by the codes insurance companies use to name your chief complaint and decide whether or not it is worthy of being covered by your policy. That you are not a piece of meat on a table, a skin-bag full of blood to which pharmaceuticals may be added while you passively hope for the results of strange tests given by people you don't know.
We believe that "diagnosis" is simply another word to classify your symptoms, but that word does not encapsulate the experience you are having, nor does it define your prognosis for improvement.  We believe that everyone has the potential to be the exception to the rule, the aberration relative to others with the same condition, the one who bucks the trend and thrives in a way that may not have been predicted.
We believe that if you aren't confident in what someone tells you about you, that some part of you may know better. That you may need a second opinion, or third, or fourth. And that you owe it to yourself to be sure all parts of you are in agreement about any course of action where your body is concerned.
We believe that doctors, homeopaths, nurses, chiropractors, physical therapists, acupuncturists, masseuses, shamans, pharmacists, astrologers, medicine women and men, nutritionists, naturopaths, priests, Ayurvedic practitioners, psychotherapists, yoga instructors, and tarot card readers are all fine resources, but in an age where information is both powerful and ubiquitous, you have a responsibility to become an expert on your own condition.  That, when in pain (and otherwise), you should use your own power and the network of those who care about you to find out all that you can about your own situation, recommended diet, exercise, treatment options, and connect with other people all over the world who may be having the same experience.
We believe that, when you get right down to the root of it, the voice inside of you always has a positive intention, and that symptoms are not just something to be pushed aside, ignored, or "cured." Rather, they may be seen as vital communications from your body about needed action, perhaps action in some other part of your body or your life that were not getting adequate attention. Setbacks and unintended consequences may also be lifesavers, temporarily limiting you in order to save you from a more ignominious fate that you may have otherwise suffered.
We believe that you are made up of the same stuff as the earth, the sky, the plants, the clouds, the stars…but not so much of plastics and parabens and pesticides and prescription medications. That innate health is your birthright because health is being in-sync with the world around you, the seasons, the food that grows where you do. That the universe is flowing through you, and when that flow stagnates, so does your health.  That the best way to return to health is to welcome back into you what you have always been made up of.  That like engenders like, good follows good, and nature knows best.
We believe that our beliefs are universal.  That staying close to the rules and natural products of the earth are not the views of some ancient, alternative, or hippie lifestyle, but a sane and healthful way of living on this planet.  That we all know this inside of ourselves, and that these words only seem foreign when we've lost touch with our health.
paged
No more posts to load.
Load More Posts
Loading posts...
333333
link
/%postname%/
off